ABOUT ALUMNAE
Calling all past pupils of CHIJ OLGC !
We are pleased to announce that we are reaching out to past pupils with the hope of setting up an alumni in the future.
Since the school started in 1960, we have been blessed with wonderful girls like you who have become part of the family. Whether you were with us back when the school was known as Convent of Our Lady of Good Counsel (fondly known as Cooling Close Convent) or as the present CHIJ Our Lady Of Good Counsel, wherever life has taken you, we have certainly not forgotten you.
We would like to renew and maintain the special bond we have by inviting you to come forward as part of our Alma Mater. We hope that through the activities that will be organised, there will be opportunities to get together, catch up on old times, renew lost ties and have a good time! By coming together, we will be able to pool our resources to support the school. We have no doubt that you will be an inspiration to the girls currently studying in the school.
Our school has come a long way from being the little convent school in Serangoon Gardens. You should come see our spanking new premises if you have not had a chance . While the school building may have changed, the spirit of our dear school is very much alive.
Do support our efforts to keep the OLGC spirit burning by indicating your interest to be a member of the future Alumni. Also, do help us in this endeavour by encouraging all your former schoolmates whom we might have missed, to sign up. The Principal and teachers (some of them old girls of the school themselves) and everyone else in the OLGC family look forward to seeing you and welcoming you. We will get back to you as soon as we are able to get a good number of past pupils.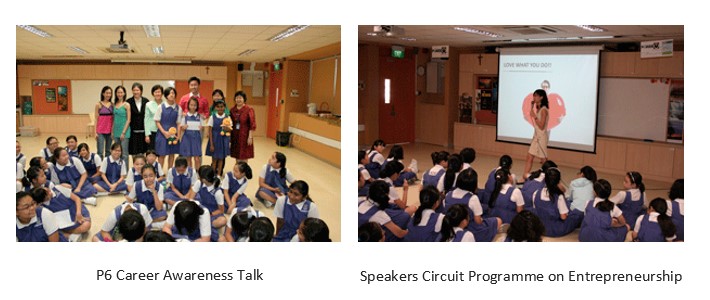 Our Alumnae members, Ms Corinne Foo, Ms Melissa Har, Ms Gwyneth Har and Ms Audrey Tan inspired our girls to work towards their career aspirations with their passionate sharing on their professions.